Zenlite®1 Inch
Direct/Indirect-Pendant Mount
ZENLITE® PM1-DI is a pendant mounted direct and indirect LED Lighting System that shines light in two directions, towards the ceiling and the ground. This fixture can be combined with ZENLITE® NC1 surface as well as recessed to form a continuous seamless light. This design allows for projection of clean horizontal, vertical and diagonal lines of light.
Volts:  24V
CRI: ≥ 95
IP Protection: IP20
Warranty: 5 Years
Lamp Life: > 50,000 Hours
US & International Patents Pending.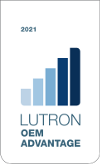 ---
Zenlite®1 Inch
Direct/Indirect-Pendant Mount